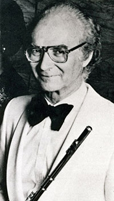 Biography
Revered as a teacher, chamber musician, and soloist, Samuel Baron was a professor of music at SUNY Stony Brook, chair of the woodwind department at Juilliard, a founding member of the New York Woodwind Quintet, and the flute soloist and music director of the Bach Aria Group. He also taught briefly at Yale and Mannes. He was a student of Georges Barrère and Arthur Lora. Mr. Baron, who served as President of the National Flute Association in 1977-1978, was a recipient of its 1996 Lifetime Achievement Award, and his students and colleagues honored him with tributes at the 1993 and 1997 NFA conventions.
Discography
Mr. Baron made many recordings on LP, many of which are now out of print. The New York Flute Club has released the following 2-CD compilation:
"Samuel Baron Memorable Performances, 1966-1996"
Bibliography
Articles by Samuel Baron:
"Higher Performance Standards: The Younger Generation of Flutists," The Instrumentalist (August 1978)
"Introduction" to The Flute and Flute Playing by Theobald Boehm (New York: Dover Publications, 1964)
"Practicing as a Way of Life," Flute Talk (November 1984): 18-19
"A Visit to the Japan Flute Club," The Instrumentalist (June 1964).
Interviews with Samuel Baron:
"Samuel Baron," in Pilar Estevan, Talking With Flutists. New York: Edu-Tainment, 1978, 21-36
"Samuel Baron: Observant Teacher," (interview with Kathleen Goll Wilson) Flute Talk (February 1990): 9-13
"Samuel Baron: Still Learning," (interview with Polly Hansen) Flute Talk (November 1984): 2-6.
"Flutist Samuel Baron: A Conversation With Bruce Duffie," http://www.bruceduffie.com/baron2.html.
Editions by Samuel Baron:
J.S. Bach, Sonata in A Major, BWV 1032 (Oxford University Press, 1975)
Vivaldi, Piccolo Concerto in C Major, F. VI, No. 4 (Franco Colombo Publications, 1962)
Works Dedicated to Samuel Baron:
Eldin Burton, Sonatina for Flute and Piano (1948)
Korte, Karl, Remembrances for Flutes (Alto, Soprano, and Piccolo) and Electronics (1971)
Kupferman, Meyer, Superflute for solo flute with prerecorded piccolo and alto flute (1971)