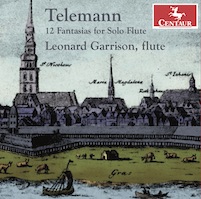 Released in 2021 on Centaur Records, this recording is a performance of Leonard Garrison's edition of Telemann's 12 Fantasias for solo flute, to be published by Theodore Presser. The edition includes extensive ornamentation.
Twelve Fantasias for Solo Flute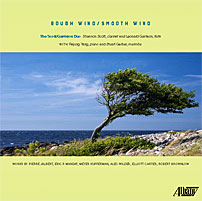 Released in August 2018 on Albany Records, Rough Wind/Smooth Wind features the Scott/Garrison Duo with Rajung Yang, piano, and Stuart Gerber, marimba. The CD includes world premiere recordings of Robert Brownlow's Bric-a-brac, Pierre Jalbert's Triple Set, Meyer Kupferman's Four Constellations, and Erik Mandat's Togetherness, written for the Scott/Garrison Duo. Also included are Elliott Carter's Esprit rude/esprit doux I & II and Alec Wilder's Suite for Flute, Clarinet, and Piano. 

David DeBoor Canfield wrote in

 

Fanfare Magazine: "They [the Scott/Garrison Duo] must certainly be counted among the foremost exponents of the music written for their particular combination (with or without piano or other instruments) … Scott and Garrison play, as do their colleagues, with utmost technical precision and musicality, as is their wont, and present all of these works in the best possible light." Available on Amazon.com, Google Play, and iTunes.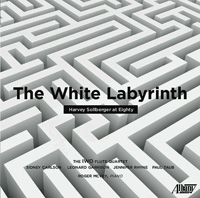 Released in March 2018 on Albany Records, The White Labyrinth features flutist Leonard Garrison, the IWO Flute Quartet, and pianist Roger McVey performing six works by Harvey Sollberger. The CD includes his frist and second Grand Quartets, Two Pieces for Two Flutes, Hara, Aurelian Echoes, and the Sonata "Charlie Hebdo." Brooks de Wetter Smith wrote in The Flutist Quarterly: "The White Labyrinth, presenting six flute compositions created between 1958 and 2015, is a vibrant tribute to his lasting legacy . . . Hara for solo alto flute (1978) should be standard repertoire for all flutists exploring major solo works for this instrument. Garrison's playing is gripping, not to be missed!" Available on Amazon.com, GooglePlay, and iTunes.
The White Labyrinth :: Harvey Sollberger at Eighty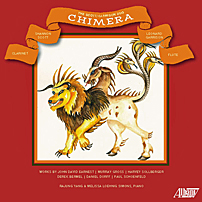 Released in November 2016 on Albany Records, Chimera features the Scott/Garrison Duo with Melissa Loehnig Simons, piano, and Rajung Yang piano. The CD includes Paul Schoenfeld's Sonatina and world premiere recordings of works by Derek Bermel, Daniel Dorff, John David Earnest, Murray Gross, and Harvey Sollberger. Colin Clarke wrote in Fanfare Magazine, "This is a wildly entertaining disc . . . There is much fun to be had with this impeccably performed and recorded disc; repeated listening reveals many layers beneath that surface. Recommended." Available on Amazon.com, Google Play, and iTunes.
Chimera is available from:
Released in September 2015 on Albany Records, Parisian Impressions features thirteen gorgeous French solos that intermediate-level or professional flutists can play. The Flute View wrote, "Garrison plays them stylishly with just the right expression and insouciance, never overdone with lovely tone and rhythm!" Danilo Mezzadri wrote in The Flutist Quarterly, "Leonard Garrison and pianist Roger McVey have recorded a delightful collection of French pieces that ought to be learned and performed by the current generation of flutists. The CD features recordings of wonderful, yet not well-known, works . . . Garrison has a beautiful tone and lovely choices of timbres and vibrato. McVey has a light and lively sound throughout the delicate accompaniment required by the selected works." Available on Amazon.com, Google Play, and iTunes.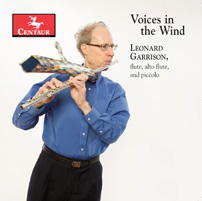 Released in September 2014 on Centaur Records, Voices in the Wind juxtaposes modern classics with world première recordings of works by Kaija Saariaho, Robert Dick, and Harvey Sollberger. In Fanfare Magazine Colin Clarke called the CD "a most unexpectedly entertaining and stimulating disc," and Ronald E. Grames wrote, "For listeners who seek out the new and unexpected, I cannot imagine a better introduction to this sound world than this release … [The] rarely recorded pieces on this disc of dazzling performances, make Leonard Garrison's discerning program a de rigueur acquisition for serious flutists …This is great stuff." Available on Amazon.com.
Released in February 2013 on Albany Records, Perennials presents works by American composer Daniel Dorff (see http://www.danieldorff.com). The Instrumentalist magazine calls this a "delightful CD" and wrote, "The Scott/Garrison Duo accompanied by Rajung Yang brings this music to life and sets the bar high for outstanding chamber music performance." Fanfare Magazine wrote, [Daniel Dorff's works] "are superbly executed by the Scott-Garrison Duo, whose pleasing tonal qualities, intonation, expressiveness, and wonderful musicianship are unwavering throughout the recital." Available on Amazon.com, Google Play, and iTunes.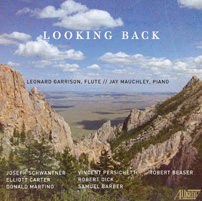 Released on Albany Records in January 2012, this CD by Leonard Garrison and pianist Jay Mauchley features première recordings of Joseph Schwanter's monumental Looking Back and Vincent Persichetti's Parable. Cynthia Stevens wrote in The Flutist Quarterly, "For lovers for contemporary flute music, this CD provides exciting and also thoughtful selections from among our most distinguished composers of the 20th and 21st centuries… Garrison's playing here is exquisite, particularly in the third register tonal control: pure and sweet… But it is the CD's title selection… that makes this CD stand out… the performance sparkles… Garrison proves himself more than up to all, and pianist Jay Mauchley is a well-matched musical companion throughout." In Fanfare Magazine, Robert Schulslaper said, "To sum up, Looking Back is an enticing, excellently performed program of 20th- to 21st-century American flute music." Available on Amazon.com, Google Play, and iTunes.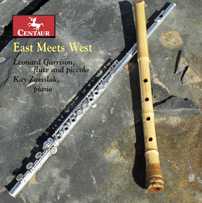 Released on Centaur Records in March 2011, this CD by Leonard Garrison and pianist Kay Zavislak features music by Western-influenced Asian composers and Asian-influenced Western composers. Fanfare Magazine wrote, "Flutist Leonard Garrison's basic sound is extraordinary—uncommonly rich, pure, and true. Add to this his elegantly deft articulation, his stunning mastery of extended techniques, and his probing musical insights, and this obscure and seemingly unpromising collection of pieces become an enlightening musical odyssey. In the Toshio Hosokawa and Isang Yun tracks pianist Kay Zavislak is with him hand in glove. The sound quality of this release is excellent by current standards. I could hear the upper harmonics (in excellent balance) even on the solo piccolo tracks." Available on Amazon.com.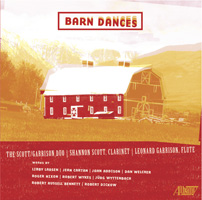 Released in December 2010, this CD with the Scott/Garrison Duo and pianist Jay Mauchley features première recordings of works for flute and clarinet. Fanfare Magazine wrote, "Shannon Scott and Leonard Garrison have put together an enticing recital of gems, all world premiere recordings, and every one of them a winner… In the hands of these two wonderful artists, more colors are evoked than one might believe possible… The consummate artistry and polished ensemble playing of the Scott/Garrison Duo as heard on this disc ought to win them many admirers." The Clarinet magazine said, "Throughout the CD, Scott and Garrison display agility and energy in their interpretations of these works. Their care in considering tonal quality and balance, coupled with acutely accurate intonation, contributes to the polished quality of each performance…Barn Dances is particularly notable for its confident and captivating performances." Available on Amazon.com, Google Play, and iTunes.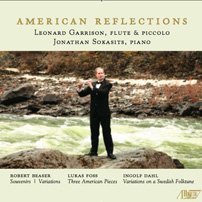 Released in November 2008, this CD with Leonard Garrison and pianist Jonathan Sokasits features four virtuoso modern American masterworks, including the première recording of Robert Beaser's Souvenirs for piccolo and piano. The Flute Network wrote: "Garrison's playing combines great virtuosity, superb control of musical expression, and high energy with lyricism. He makes the most difficult technical passage seem easy and extreme dynamics and wide leaps appear effortless. It is quickly evident on the Beaser Souvenirs that he is a specialist on the piccolo, and the other works show him throughout at his flutistic best with a clear, focused, and singing tone throughout the range of the instrument." Fanfare Magazine said that the "playing is strikingly idiomatic and tightly integrated… Garrison's technique and musicianship is at a high level." American Record Guide called the CD "excellent music excellently performed… Ingolf Dahl's 1945 Variations on a Swedish Folk Tune for solo flute is a 12-minute tour de force and shows Mr Garrison at his best." Available on Amazon.com, Google Play, and iTunes.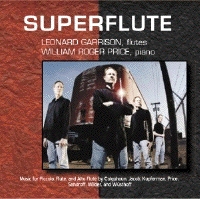 Released in July 2005, this CD with Leonard Garrison and pianist Roger Price features music for soloist doubling on flute, alto flute and piccolo. Flute Talk magazine called it "astounding" and said, "This remarkable CD… is a great addition to the recorded flute repertoire library." The Flute Network said "Leonard Garrison… is a flutist worthy of much wider recognition and acclaim. This outstanding recording shows that he truly deserves to wear the mantle of the 'caped crusader'. On this recording he impressively demonstrates his prowess and mastery of the techniques and difficulties of contemporary music… Garrison's playing is sensitive and expressive while traversing the tightwire and performing the flying feats of agility required by the avant-garde style. He is just 'superior' both in brilliant technique and musicianship." The Gramophone wrote, "The title does come close to describing the challenges that Leonard Garrison surmounts throughout the 20th-century works he performs here with daring and sensitivity." Available on Amazon.com, and this recording of The Pied Piper is available as an audio book with John Browning's poem through iTunes.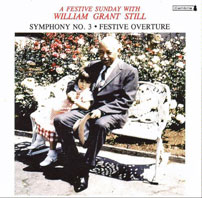 William Grant Still, Folk Suite No. 4
Originally recorded in the 1980s on LP, this album of music by William Grant Still was re-relased on CD in 1996. It features Leonard Garrison, flute, Robert Umiker, clarinet, Sam Magill, cello, and Arthur Tollefson, piano, performing Still's delightful Folk Suite No. 4, a performance frequently broadcast on classical music radio stations. Available on Amazon.com and elsewhere.